39
people 👁️ing this randomly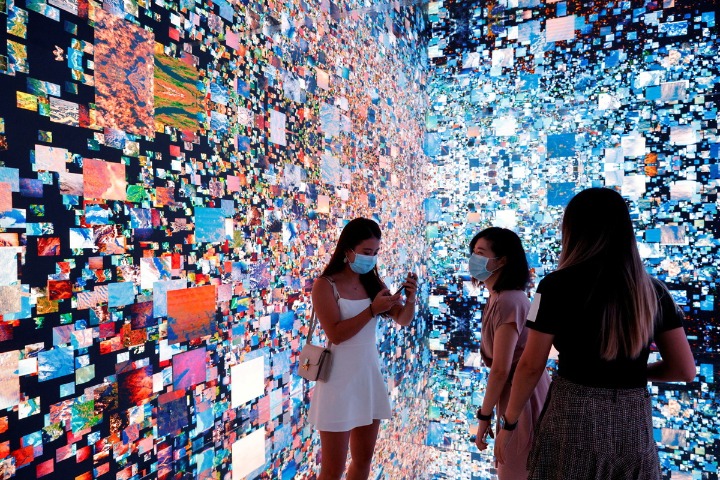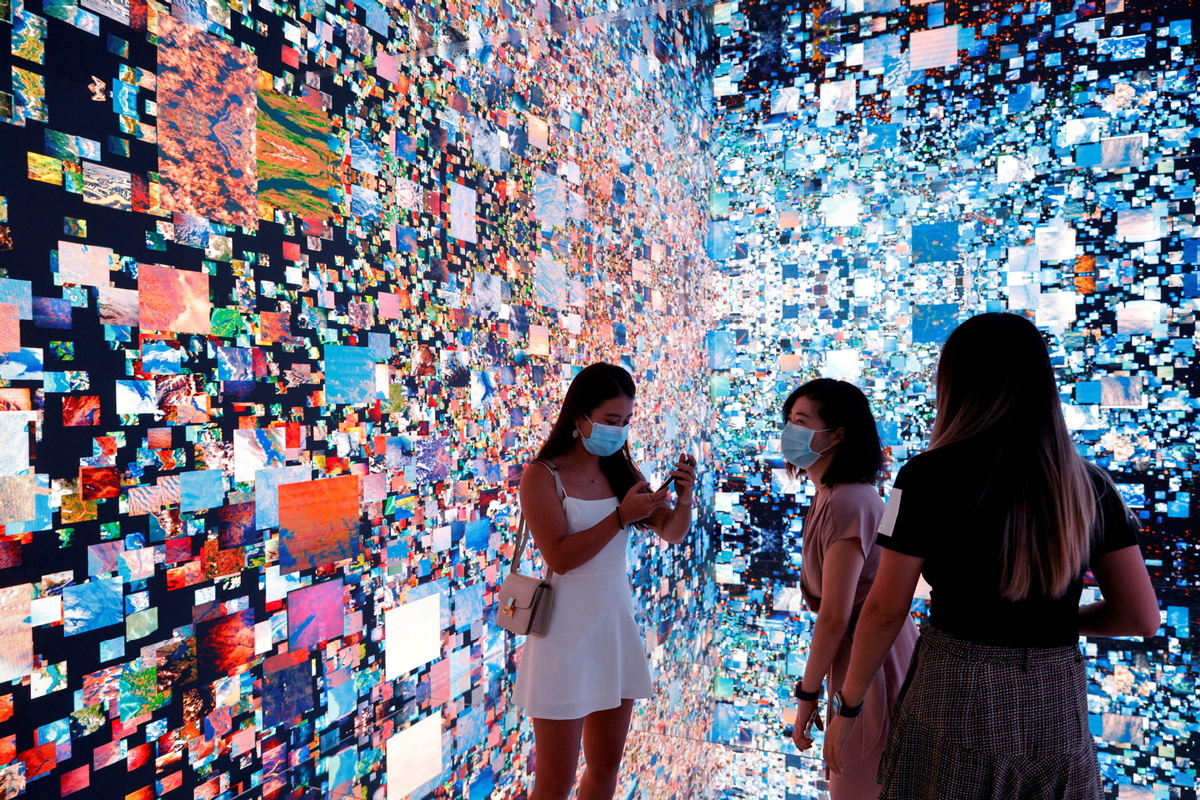 Visitors are pictured in front of an immersive art installation titled "Machine Hallucinations — Space: Metaverse". [Photo/Agencies]
Investors should be wary of possible equity bubbles related to the metaverse, as long-term efforts are needed to mature technologies, application scenarios and business models to support development of the concept, according to experts.
Their comments came after a digital "land rush" in the United States on virtual world websites, including Decentraland, where a virtual real estate plot of land sold for $2.4 million. In China, the stock prices of companies related to the metaverse have seen significant fluctuations.
Industry analysts said the term "metaverse" is one of the hottest buzzwords for the next phase of the internet, where the virtual and physical worlds become more interconnected.
The metaverse refers to virtual worlds shared by users, or digital spaces augmented by virtual and artificial reality technologies. On metaverse platforms, people can socialize, play games or attend concerts as digital avatars.
Jiao Juan, an analyst at Essence Securities, said the concept of the metaverse is still new, and related application scenarios and business models are far from mature. Investors should be cautious about related opportunities.
Yu Jianing, co-author of the book Metaverse and principal of Huobi University, an educational and research institution focusing on frontier technologies, said, "Those companies currently claiming to be metaverse-related platforms may not even be able to complete the journey to see the concept develop into a full-blown application. Digital assets, including virtual real estate, have great risks and are not suitable for individuals to invest in blindly."
As a new "darling" of the capital market, the metaverse has been overhyped to the extent that it could now spawn numerous equity bubbles, he added.
Last month, New York company Republic Realm said it had spent a record-breaking $4.3 million on digital land through The Sandbox, which is billed as a prototype metaverse platform.
This news followed the $2.4 million land purchase in late November on a rival platform, Decentraland, by Tokens, a Canadian company focusing on decentralized finance.
Pan Helin, executive dean of the Institute of Digital Economy at Zhongnan University of Economics and Law in Wuhan, Hubei province, said investors should watch out for metaverse bubbles. In the future, with the expansion of virtual real estate platforms, there may be an unlimited supply of digital real estate, affecting the availability of virtual land.
"In addition, users have extremely diversified preferences, and the virtual platforms that are currently popular globally do not necessarily mean there will be good developments in the future," Pan said.
In China, stocks of metaverse-related companies in the A-share market rose dramatically the day after Facebook CEO Mark Zuckerberg announced in October that the social media giant would change its parent company's name to Meta-embracing its vision for work and leisure in the virtual world.
Chinese companies are welcoming the metaverse and strengthening their efforts in virtual and artificial reality. They are also combining elements of the metaverse with the research and development of games. Some listed Chinese companies have even started to promote "meta" products and services.
The stock exchanges in Shanghai and Shenzhen, Guangdongprovince, issued eight regulatory decisions to different companies from Nov 25 to Dec 13, along with 14 letters requiring the listed companies named to clarify the relationship between their main business and the metaverse, according to data compiled by online news outlet ThePaper.
Securities Times warned in a commentary that investing is not a virtual game, and those buying Chinese stocks irrationally in the hope of profiting from the metaverse will likely be extremely disappointed.
Chang Qing, chief strategist at Beijing Compass Technology Development Co, a provider of professional financial data analysis and securities investment advisory services, said the metaverse is more like a publicity stunt at present, as its application scenarios and profit models remain unclear.
Investors should make rational decisions and remain cautious about the potential risks of speculating blindly, Chang added.
Robbie Hu, an augmented reality enthusiast interested in creating digital art in an augmented reality format, said the metaverse faces challenges in maturing its technology, as the devices currently available (virtual or augmented reality goggles) are uncomfortable for users to wear for a long time.
"It is barely possible to wear these devices for more than one or two hours. I'm an enthusiast, but I still feel discomfort when I use them,"Hu said, adding that there is a long way to go to develop related technologies.
Source
---
this site is a gnomie of the domain mym3verse.space