Best personal safety apps for iPhone
20
people 👁️ing this randomly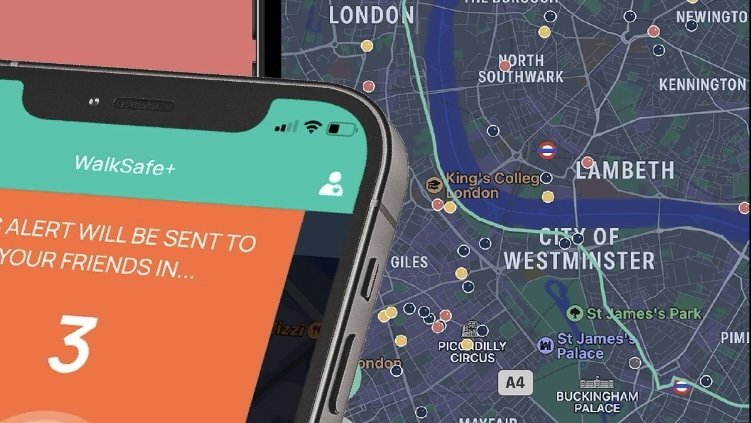 Article Hero Image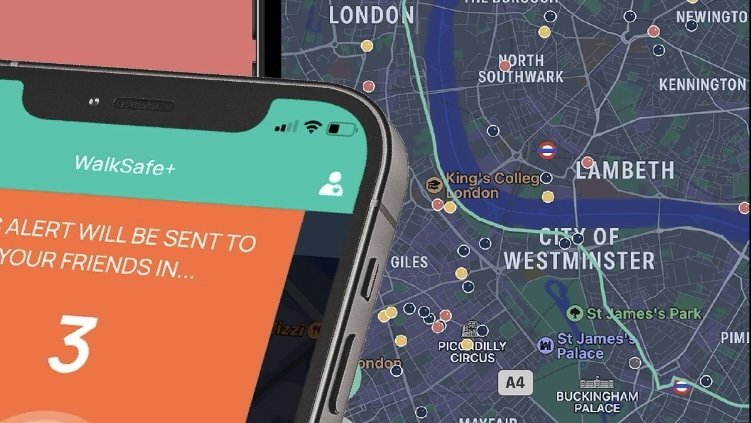 AppleInsider may earn an affiliate commission on purchases made through links on our site.
The iPhone goes beyond a communication tool, as it can even be used to enhance your personal safety. Here are the best that can help keep you protected.
Whether you are a college student navigating your way home in the darkness from the strip, or in need of comfort when you find yourself in sketchy places and situations, downloading a personal safety app to your favorite iOS device can provide peace of mind. With immediate communication and access to help in an emergency, it could be just what you need to feel safe in an unwary situation.
As with all safety products, make sure you test apps in advance to ensure they work efficiently in a true emergency when you really need them.
Here are some of the best apps to improve your personal safety in 2023.
Noonlight
Noonlight is the personal safety app you need to download for situations when you feel unsafe or have an immediate emergency. It uses advanced technology to alert emergency personnel to your exact location with just the release of a button.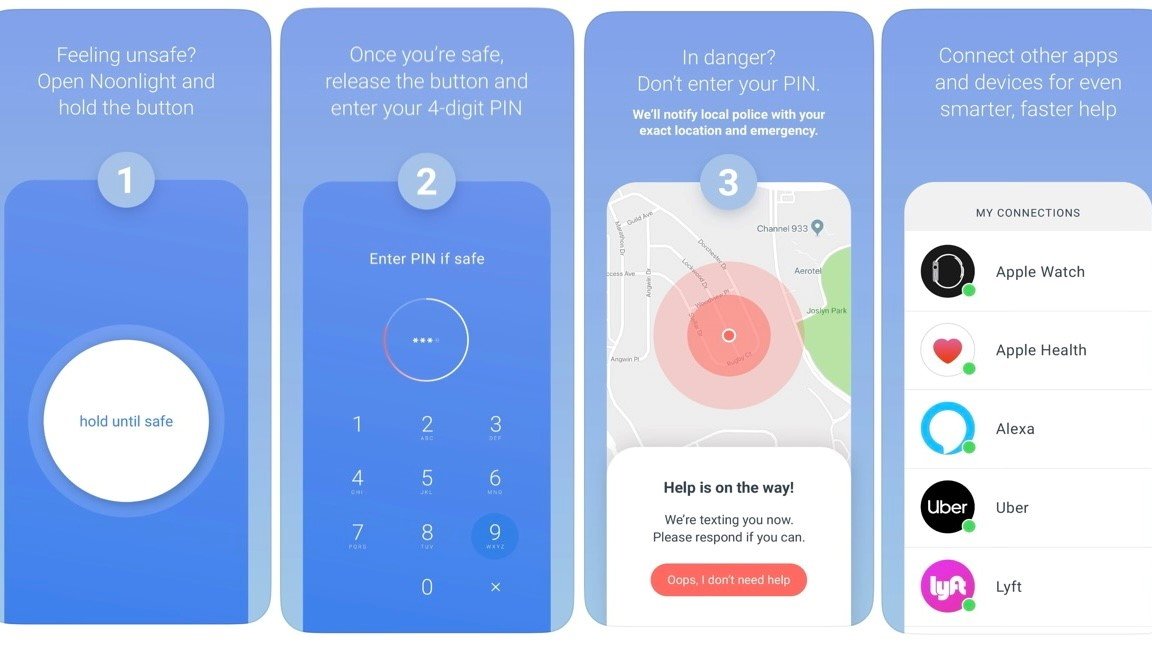 Noonlight uses advanced technology to get emergency help with just the release of a button.
This personal safety app is easy to use, and uses a "dead man's switch" principle. In an unsafe situation, you press and hold a button to confirm that you are OK, and a response is triggered if you let go of the button before you can disarm it.
When you reach your destination, you can release the button and enter a PIN to disarm it. However, if you're suddenly in danger, you can release the button without entering the PIN, which triggers a response from local police and emergency personnel.
Noonlight is perfect for meeting strangers you have connected with online from online dating to online marketplace exchanges. The app allows users to add a note to their timeline, and create a safety network of contacts who can track your movement and alert authorities in emergency situations.
In cases of emergency, Noonlight will also provide vital information to first responders— photo, age, medical conditions, etc. to help responders provide immediate and efficient care.
Noonlight is free to download on the App Store. The cost of services range from $1.99 for SafeTrek to $29.99 for a premium subscription.
WalkSafe+
WalkSafe+ is a personal app created to provide safety at your fingertips while giving app users the necessary tools to make informed decisions about their personal safety. The app uses up-to-date and verified police data to help you choose the safest routes when walking on your daily journeys.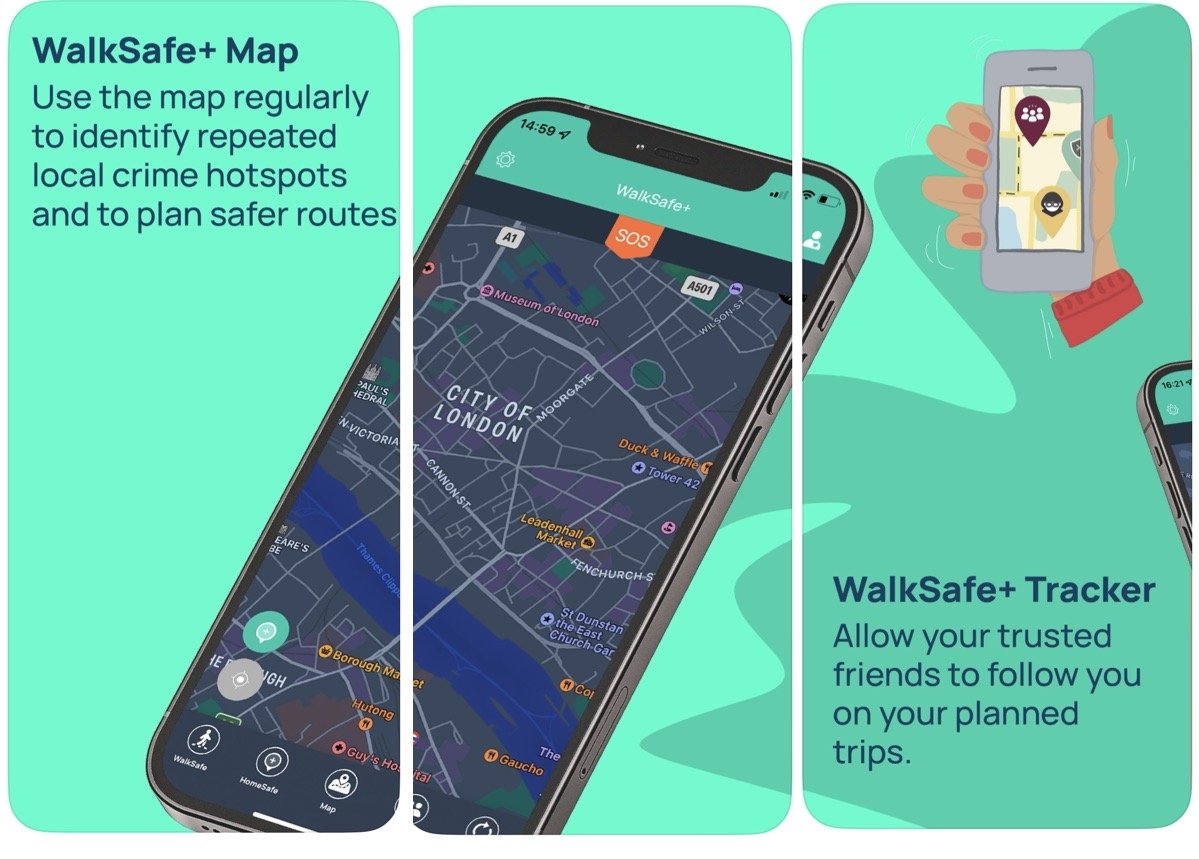 WalkSafe+ helps you choose the safest routes while on your daily journeys.
WalkSafe+ allows users to create a trusted circle of friends, to whom you can share your location. There's also an SOS button to alert all friends in your circle in case of an emergency.
App users are also informed of street crime in their designated area, with information based on verified police crime data. WalkSafe+ provides Hotspot Alerts to alert you when you unknowingly walk near high crime areas.
WalkSafe+ app provides access to a WalkSafe+ map, tracker, and circle of friends options to enhance your daily personal safety.
WalkSafe is free to download on the App Store. There are no In-App purchases required for this app.
UrSafe
UrSafe is the personal safety app designed to keep you safe everywhere. The app is the first and only hands-free, voice-activated personal safety app, fully integrated to keep you safe every time.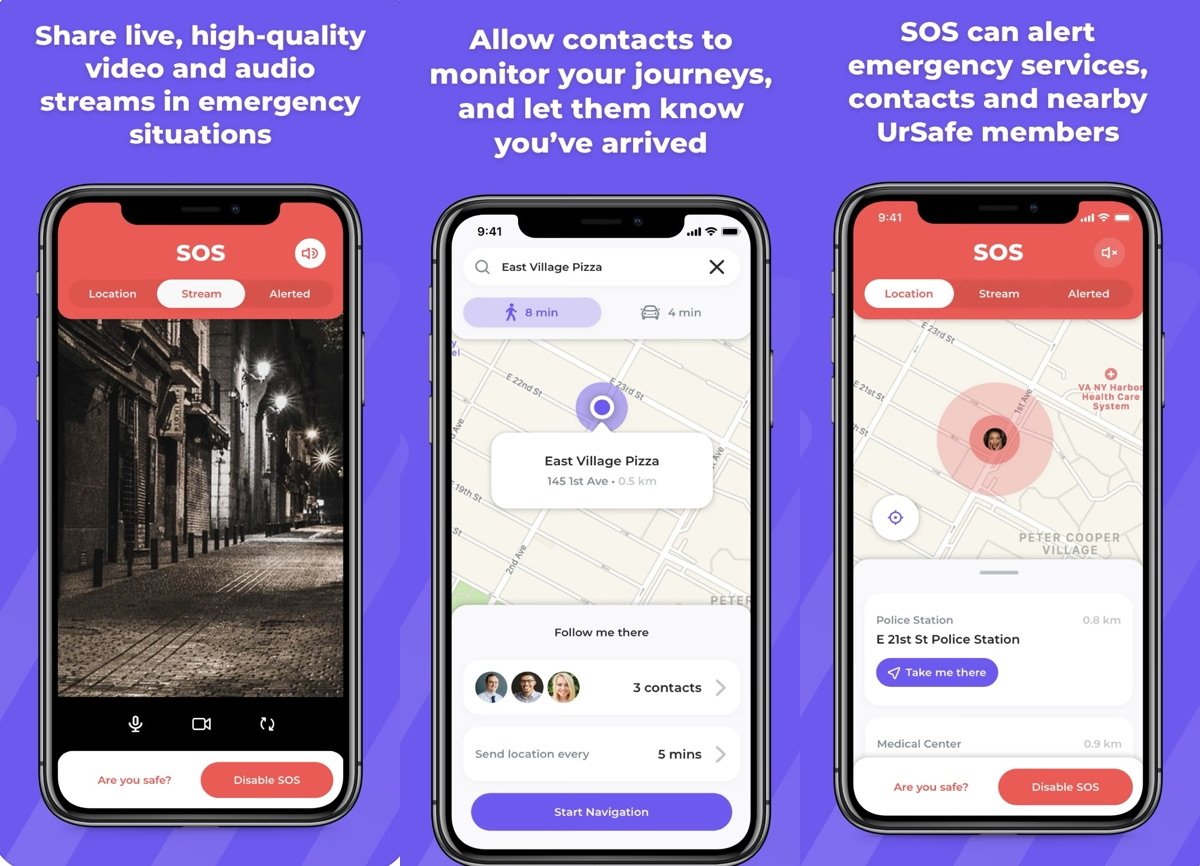 UrSafe offers users a voice-activated, easy-to-use and hands-free SOS lifeline.
The app uses smart technology to allow app users to set personal safewords that trigger different responses based on the severity of the emergency.
UrSafe includes friends and family location updates to allow concerned parties to see your location in real-time. The app will also notify designated friends and family members to view live and audio video streams to monitor situations where you feel unsafe and uncomfortable.
There's also an SOS option, your "silent bodyguard in your pocket" which can be triggered in milliseconds after your designated safeword is activated. Additional app features include FollowMe and CheckIn, Friends and Family Tracking, and live streaming options as well.
UrSafe is free to download on the App Store Free. In-App Purchases start from $0.99 for a single use, to $4.99 for premium.
Citizen: Local Safety Alerts
Citizen is a personal safety app that allows users to feel empowered and protected around the people and places that matter most to you. Citizen provides users access to real-time 911 alerts, receive help instantly from emergency personnel and also provides safety tracking for family and friends.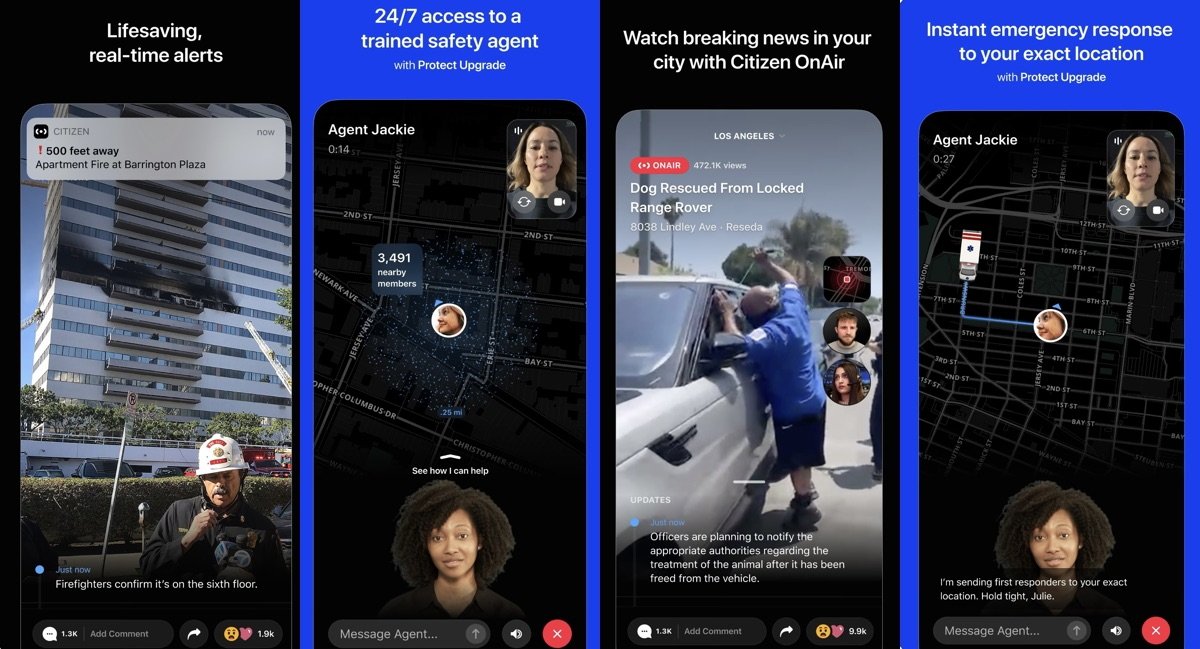 Citizen provides real-time safety alerts to help you feel safer at home or away.
App users are not only notified of safety alerts and live video incidents happening in your community, the Citizen app also provides information on natural disaster and other situations that could potentially be dangerous. The app provides 24/7 access to a trained Protect Agent who is there for you in situations where you feel unsafe for friends and families.
Citizen is uniquely designed to inform you on local emergencies such as the need to evacuate buildings, compromised school zones, and crime in progress to help you protect not only you but your communities as well.
Features include Protect Agent, which silently monitors live location and audio and alerts others and emergency personnel in dangerous situations, and Safety Map, so loved ones can see your location status at a glance if near dangerous incidents.
Citizen is free to download on the App Store Free. In-App Purchases: Premium packages start from $4.99 for the Personal Monthly Plan, rising to $149.99 for the annual version, while Family Monthly costs $69.99.
Life360
Life360 is one of the top GPS and tracking apps designed to help enhance your personal safety. Life360 helps app users protect and connect with family and friends, pets, and important belongings through advanced driving, location, and digital features.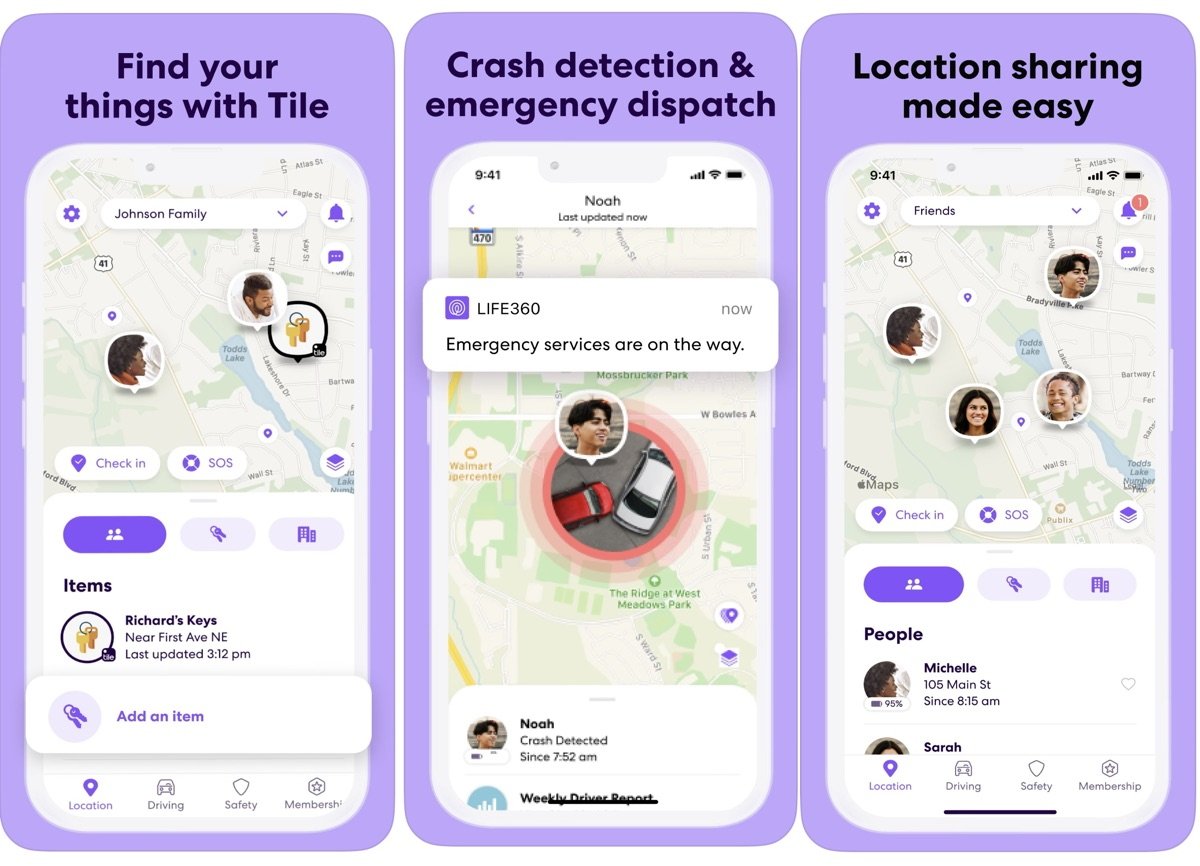 Life360 is the personal safety app that helps you find all the people and things that matter most.
The app provides location safety through advanced location sharing, driving safety with 24/7 support with crash detection and roadside assistance, and more. Life360 also provides digital safety with access to emergency assistance available to you anytime and anywhere.
Life360 allows users to stay connected and keep track of important personal belongings, such as their phone, wallet, or purse, with Tile Bluetooth trackers. Additional app features include access to SOS silent alert, Family Safety Assist for real-time help in any situation, and Identity Theft Protection to help safeguard personal and sensitive digital information.
Life360 is free to download on the App Store. Premium packages are available as an In-App Purchase, including a $7.99 Premium or Plus plan, Driver Protect options between $12.99 and $69.99, and Silver, Gold, and Platinum memberships priced at up to $24.99.
Source
---
this site is a gnomie of the domain mym3verse.space